1/2-Inch Drive Pear Head Quick Release Ratchet Set

[Specifications]:
Drive: 1/2"
Socket Set: 10, 11, 12, 13, 14, 15, 16, 17, 18, 19mm
Length of Ratchet Handle: 267mm
Material: Chrome Vanadium
Chrome Finish: Matt / Full Polish
Tooth: 24-Teeth
Head Style: Teardrop
Handle: Two-Component Black Handle
Socket holder incl.
[Features]:
◆ Forged from high-strength chrome vanadium steel and finished in matt / full polish chrome.
◆ With thumb operated forward/reverse switch mechanism.
◆ Head Style: Teardrop/Pear.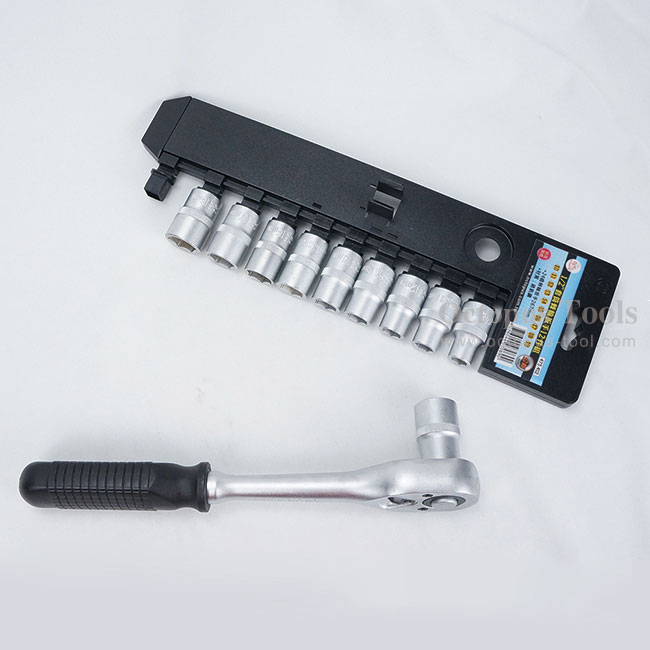 1/2-Inch Drive Pear Head Quick Release Ratchet Set
Autosol Leather Cleaner 75ml Tube

Capacity: 75ml

◆ Restores color and luster to leather
◆ PH-balanced formula safely cleans leather
◆ Can remove stains caused by dirt, build-up, and even ink
◆ Suitable for smooth leather, also works on matte plastic, vinyl or synthetic leather (not recommend for suede)
◆ Quick and easy to use, gentle but effective
◆ Removes grime and restores elasticity
◆ Suitable for bumpers, spoilers, motorcycle bags, jackets, briefcases, wallets, furniture and shoes etc.


Autosol Hard Wax 400ml Bottle

Capacity: 400ml

◆ Using highest quality ingredients
◆ After the wax dries, it forms a highly reflective hard film for long-lasting protection
◆ Cover paint imperfections and provide high gloss
◆ Provide durability, ease of use and depth
◆ Suitable for new or freshly treated paint and clear coats


Pocket Sized Thin Jaw Adjustable Angle Wrench TWM-08 Engineer

◆ Material: Chrome Vanadium Steel
◆ Max. Opening: 24mm
◆ Length: 110mm
◆ Weight: 85g
◆ For bolts and nuts below M16
◆ Accurately machined finish with 2mm thin edge
◆ Compact pocket-size
◆ Stubby and cushioned grip for effective work
◆ 24mm wide open jaws
◆ Extra long jaws for hard-to-reach area